Posts for tag: braces
By Dr. Dulay & Associates
May 21, 2018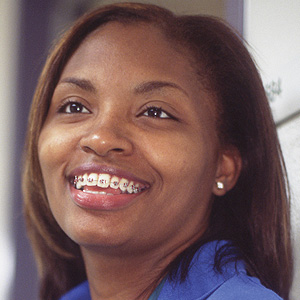 You've had crooked teeth since you could remember. Perhaps you and your parents talked about braces when you were a teenager, but it never happened. Now you're well into your adult years and you're comfortable with how you look — so why go through the expense and time now to have them straightened?
There's a good reason to consider orthodontics at any age — improved health. While we mainly associate teeth straightness with an improved smile, the more serious impact of misaligned teeth is on function — how we bite, chew and speak. As with many other areas of life, good form usually makes for good function. When we have crooked teeth, we may not be able to chew our food properly or speak as well as we could if our teeth were aligned properly.
Misaligned bites (malocclusions) can also have an impact on individual tooth health. Because they don't interact efficiently with their opposing counterparts during chewing or biting, teeth can become loose or migrate further out of alignment.
While improvement in oral health is the primary reason for considering treatment for a malocclusion, don't discount the benefit of orthodontics to your appearance. Your smile impacts many aspects of your life, including career and social relationships. A straighter, more attractive smile could also boost your self-confidence: even if you think you've grown accustomed to your smile, straightening your teeth could vastly change how you view yourself and how you believe others view you.
And if you're dreading the look and feel of metal braces, orthodontic treatments have made giant strides in the last few decades. Clear aligners, for example, are much less noticeable than traditional fixed braces (and can be removed for special occasions), but still effective for moving teeth. There's never been a better time to consider straightening your teeth — and change the course of your health and your life.
If you would like more information on orthodontics for adults, please contact us or schedule an appointment for a consultation. You can also learn more about this topic by reading the Dear Doctor magazine article "Why Straighten Teeth."
By Dr. Dulay & Associates
March 12, 2018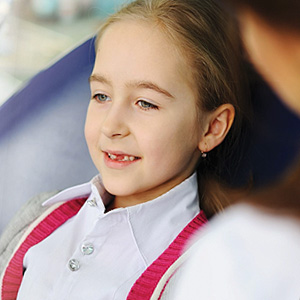 At any given time some 4 million teens and pre-teens are wearing braces or other orthodontic appliances to correct a malocclusion (poor bite). While most cases are straightforward, some have difficulties that increase treatment time and cost.
But what if you could reduce some of these difficulties before they fully develop? We often can through interceptive orthodontics.
This growing concept involves early orthodontic treatment around 6 to 10 years of age with the goal of guiding the development of a child's jaws and other mouth structures in the right direction. These early years are often the only time of life when many of these treatments will work.
For example, widening the roof of the mouth (the palate) in an abnormally narrow upper jaw takes advantage of a gap in the bone in the center of the palate that doesn't fuse until later in adolescence. A device called a palatal expander exerts outward pressure on the back teeth to influence the jawbone to grow out. New bone fills in the gap to permanently expand the jaw.
In cases with a developing overbite (the upper front teeth extending too far over the lower teeth when closed), we can install a hinged device called a Herbst appliance to the jaws in the back of the mouth. The hinge mechanism coaxes the lower jaw to develop further forward, which may help avoid more extensive and expensive jaw surgery later.
Interceptive treatments can also be fairly simple in design like a space retainer, but still have a tremendous impact on bite development. A space maintainer is often used when a primary ("baby") tooth is lost prematurely, which allows other teeth to drift into the empty space and crowd out the incoming permanent tooth. The wire loop device is placed within the open space to prevent drift and preserve the space for the permanent tooth.
To take advantage of these treatments, it's best to have your child's bite evaluated early. Professional organizations like the American Association of Orthodontists (AAO) recommend a screening by age 7. While it may reveal no abnormalities at all, it could also provide the first signs of an emerging problem. With interceptive orthodontics we may be able to correct them now or make them less of a problem for the future.
If you would like more information on orthodontic treatments, please contact us or schedule an appointment for a consultation. You can also learn more about this topic by reading the Dear Doctor article "Interceptive Orthodontics."
By Dr. Dulay & Associates
March 04, 2018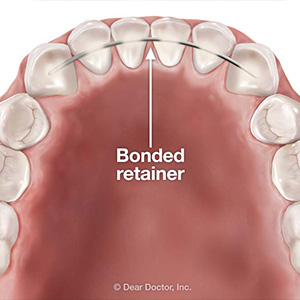 A lot of time and effort goes into straightening your smile. But there's a possibility it might not stay that way—and all that hard work could be lost. The same natural mechanism that enables your teeth to move with braces could cause them to revert to their old, undesirable positions.
So for a little while (or longer for some people) you'll need to wear a retainer, an appliance designed to keep or "retain" your teeth where they are now. And while the removable type is perhaps the best known, there's at least one other choice you might want to consider: a bonded retainer.
Just as its name implies, this retainer consists of a thin metal wire bonded to the back of the teeth with a composite material. Unlike the removable appliance, a bonded retainer is fixed and can only be removed by an orthodontist.
Bonded retainers have several advantages. Perhaps the most important one is cosmetic—unlike the removable version, others can't see a bonded retainer since it's hidden behind the teeth. There's also no keeping up with it—or losing it—since it's fixed in place, which might be helpful with some younger patients who need reminding about keeping their retainer in their mouth.
There are, however, a few disadvantages. It's much harder to floss with a bonded retainer, which could increase the risks of dental disease. It's also possible for it to break, in which case it will need to be repaired by an orthodontist and as soon as possible. Without it in place for any length of time the teeth could move out of alignment.
If you or a family member is about to have braces removed, you'll soon need to make a decision on which retainer to use. We'll discuss these options with you and help you choose the one—removable or bonded—that's right for you.
If you would like more information on bonded retainers, please contact us or schedule an appointment for a consultation. You can also learn more about this topic by reading the Dear Doctor article "Bonded Retainers: What are the Pros and Cons?"