Posts for tag: orthodontic treatment
By Dr. Dulay & Associates
August 29, 2018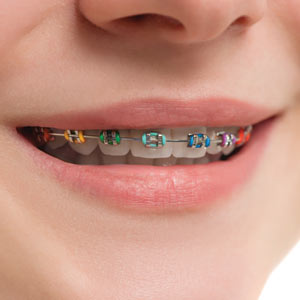 If you press your tongue against your teeth, unless something is badly wrong they won't budge. In fact, your teeth are subjected to a fair amount of pressure each day as you chew and eat, and yet they remain firmly in place.
But there's a deeper reality—your teeth do move! No, it's not a paradox—the gum and bone tissues that hold your teeth in place allow for slight, imperceptible changes in the teeth's position. Their natural ability to move is also the basis for orthodontics. Here are 3 more facts you may not know about your teeth's natural ability to move.
Teeth are always on the move. Teeth are held firmly within the jawbone by an elastic gum tissue called the periodontal ligament and a thin layer of bony-like material called cementum. In response to pressure changes, though, the bone dissolves on the side of the teeth in the direction of pressure and then rebuilds behind it, solidifying the teeth's new position, a process that happens quite slowly and incrementally. And it will happen for most of us—some studies indicate more than 70% of people will see significant changes in their bite as they age.
Orthodontics works with the process. Orthodontic appliances like braces or clear aligners apply targeted pressure in the direction the orthodontist intends the teeth to move—the natural movement process does the rest. In the case of braces, a thin metal wire is laced through brackets bonded to the front of the teeth and then anchored, typically to the back teeth. The orthodontist incrementally tightens the wire against its anchors over time, encouraging tooth movement in response to the pressure. Clear aligners are a series of removable trays worn in succession that gradually accomplish the same outcome.
Watch out for the rebound. That nice, straight smile you've gained through orthodontics might not stay that way. That's because the same mechanism for tooth movement could cause the teeth to move back to their former positions, especially right after treatment. To avoid this outcome, patients need to wear a retainer, an appliance that holds or "retains" the teeth in their new positions. Depending on their individual situations and age, patients may have to wear a retainer for a few months, years or from then on.
If you would like more information on orthodontic treatment, please contact us or schedule an appointment for a consultation. You can also learn more about this topic by reading the Dear Doctor magazine article "The Importance of Orthodontic Retainers."
By Dr. Dulay & Associates
May 31, 2018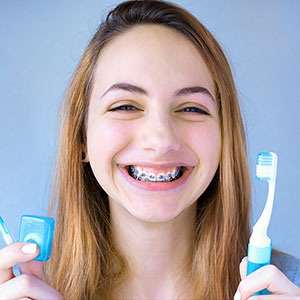 Wearing braces is all about the future: you undergo many months of treatment to gain a lifetime of better mouth function and a more attractive smile.
In the meantime, though, you'll have to deal with a few new realities during treatment: restrictions on foods, limitations with mouth function, and (perhaps) embarrassment over your new "metallic" smile.
There's one reality, though, that trumps all others in importance: your risk for developing dental disease increases significantly during orthodontic treatment. The brackets and wires of your braces make it more difficult to remove bacterial plaque, the main cause of dental disease, which allows places for disease-causing bacteria to thrive. To combat this, you'll need to step up your hygiene efforts to remove daily plaque.
One sign your efforts might not be getting the job done is red, swollen or bleeding gums. Although gums can swell in reaction to the braces themselves, it's often because plaque-induced periodontal (gum) disease has infected the gum tissues.
Gum disease is an aggressive infection. If it isn't stopped it can damage the gums and underlying bone that support your teeth — damage that could eventually lead to tooth loss. To stop it, we must remove plaque from all tooth and gum surfaces, even below the gum line. In some advanced cases it may even be necessary to remove the braces to better treat the disease.
That's why preventing gum disease through effective hygiene is so important. Besides continuing routine visits with your family dentist, you should also brush and floss every day to remove plaque. Be sure you're brushing above and below the braces. It may be helpful to use an interproximal brush specifically designed to maneuver around these tight spaces. You can also use a floss threader or a water irrigator to make the job of flossing easier.
If you do notice gum redness, swelling or bleeding, don't delay — call your dentist at once. An examination will determine if you have gum disease and to what degree, which will guide treatment. The sooner this happens, the less the impact on your dental health and your orthodontic treatment.
If you would like more information on dental care while wearing braces, please contact us or schedule an appointment for a consultation. You can also learn more about this topic by reading the Dear Doctor magazine article "Gum Swelling During Orthodontics."
By Dr. Dulay & Associates
March 12, 2018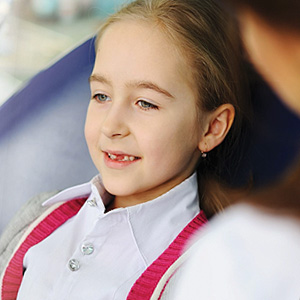 At any given time some 4 million teens and pre-teens are wearing braces or other orthodontic appliances to correct a malocclusion (poor bite). While most cases are straightforward, some have difficulties that increase treatment time and cost.
But what if you could reduce some of these difficulties before they fully develop? We often can through interceptive orthodontics.
This growing concept involves early orthodontic treatment around 6 to 10 years of age with the goal of guiding the development of a child's jaws and other mouth structures in the right direction. These early years are often the only time of life when many of these treatments will work.
For example, widening the roof of the mouth (the palate) in an abnormally narrow upper jaw takes advantage of a gap in the bone in the center of the palate that doesn't fuse until later in adolescence. A device called a palatal expander exerts outward pressure on the back teeth to influence the jawbone to grow out. New bone fills in the gap to permanently expand the jaw.
In cases with a developing overbite (the upper front teeth extending too far over the lower teeth when closed), we can install a hinged device called a Herbst appliance to the jaws in the back of the mouth. The hinge mechanism coaxes the lower jaw to develop further forward, which may help avoid more extensive and expensive jaw surgery later.
Interceptive treatments can also be fairly simple in design like a space retainer, but still have a tremendous impact on bite development. A space maintainer is often used when a primary ("baby") tooth is lost prematurely, which allows other teeth to drift into the empty space and crowd out the incoming permanent tooth. The wire loop device is placed within the open space to prevent drift and preserve the space for the permanent tooth.
To take advantage of these treatments, it's best to have your child's bite evaluated early. Professional organizations like the American Association of Orthodontists (AAO) recommend a screening by age 7. While it may reveal no abnormalities at all, it could also provide the first signs of an emerging problem. With interceptive orthodontics we may be able to correct them now or make them less of a problem for the future.
If you would like more information on orthodontic treatments, please contact us or schedule an appointment for a consultation. You can also learn more about this topic by reading the Dear Doctor article "Interceptive Orthodontics."